A store could be huge or small in size, nevertheless, what usually matters is what it sells and not just how big it is. 

"Pretty Pregnant", is a famous maternity store in Amman - Jordan, whose owner, Mr. Rami Abu Goush, was determined to put it on the radar. 

He expressed the reason for starting up this business, is the fact that maternity stores take up less than 25% in the majority of retail stores and so on. 
He wanted to be a person to make maternity clothes available at a good & affordable price with top-notch quality. "Pretty Pregnant" is one of the very few successful and known maternity stores in Jordan. Mr. Rami wanted to spread the culture of having a special place for a mother to buy specific clothes made just for her and her babies without the need to just keep looking around in generic clothing stores trying to find something and contemplate whether it would fit the cute baby bump or not! 
Mr. Rami stated, "I wanted to open up a store that would speak to a mother more than anyone, especially that maternity clothes were not always an available trend with continuous access whether it was online or on grounds." 
With such aspiration, Mr. Rami started looking for a system that would appease his needs as a business and salesman, he opened his store and migrated through the integration of more than one system but he still wanted a system that has an online platform for him to work on. In other words, he wanted something web-based to give his business a clean start with accessibility from all over the world.
In 2016, Mr. Rami, found Smart Way Business Solutions through other customers who were already operating on Odoo in the same mall. He reached out to Smart Way Business Solutions and we were more than pleased to take him under the wings of Odoo's ERP. 
He thrived and had a clean and transparent start for "Pretty Pregnant," a beautiful maternity store with a lively staff who made a mother feel special and at home with its unique products. 
"Pretty Pregnant" had a wonderful start with the implementation of their requirements by Smart Way Business Solutions. They started with 'Point of Sale' and ended up much more from Sales to Inventory and the much-needed customization to be done by us as an Odoo Partner. 
But one of their most important required and applied Odoo customization, which made them love Odoo even more, was the methodology and application of 'Re-Ordering' rules. Re-ordering rules are simple but not when it's on paper or has to always be done manually. Odoo solves that problem pretty quickly by having a 'Re-ordering' rule to manage your minimum and maximum stock level of any given product. It's not just that, it's also the fact that it's an automated process where you only have to set up a minimum and maximum for the stock level. Once a certain product reaches the minimum stock level defined in the rule, a purchase order is triggered in the draft stage for the manager to look over and validate. The only manual thing you actually do here is the click of a button to confirm the purchase order and nothing more. Pretty cool, right?

"Pretty Pregnant" is a blooming industry with uniquely sewed products that fit a criterion of amazing and hardworking creatures, mothers! We do hope that their pleasant atmosphere would reach and expand beyond any possible horizon with Odoo & Smart Way by their side to sew up the solution for their every need.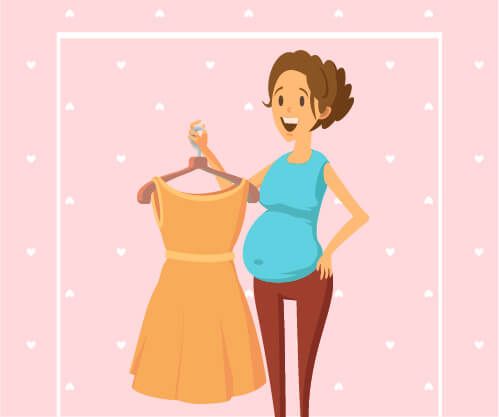 Need to Fill Your Closet with Graceful & Cute Maternity Clothes? 
Don't Forget to Go and Visit "Pretty Pregnant" The Moment You Get to!