Courier Delivery Services are specialized in delivering packages and parcels either locally or internationally. Couriers are usually employed by a company that charges a flat rate to the party using the courier service. They provide different delivery services ranging from express shipping to shipment tracking for the parties using their services.
Courier services were developed to offer a faster and more secure alternative to the usual traditional mail services which could be considered slow sometimes.
Courier delivery services such as  DHL, DTDC, FedEx, Aramex...etc are prime examples of companies that provide top-of-the-line services. Odoo's "Delivery Methods" module integrates with a wide range of these couriers, providing a unique advantage of connecting your business with an integral part of the workflow.

Through the above link, you can see how the Odoo module does a terrific job in integrating the courier system with Odoo, however, it lacks dynamic triggering of the pickup. While the out-of-the-box features grant you unparalleled business value, our custom module, 'Courier Delivery Matrix' gives you a lot more control. You gain the ability to set and define dynamic rules based on which to notify the courier of pending orders that are ready for pickup.
Reduction in transport expenses and fast delivery services are desirable benefits to take into consideration when scoring a deal with a Courier if you're a company with a large number of orders going out and you want to conserve money. If you already have a deal that revolves around a certain KPI to be met and you need help managing it, this is the module for you.
Smart Way Business Solutions has designed a module to help save your time, your money and give you the option of customizing your delivery methods per courier based on a set of dynamic rules you create along with a set of preferred notification periods. 
It's also super easy to use! After downloading & installing the module, you will be able to select whether to use the default Integration type, or you can choose to customize it however you like. 
If you've decided to spice things up and choose the custom integration type, you will see a new field and a new tab appear. The field allows you to control the frequency at which you send out notifications to your courier if you haven't met any of the rules that you set for yourself. This is a great failsafe that ensures your orders won't get lonely in your storage room!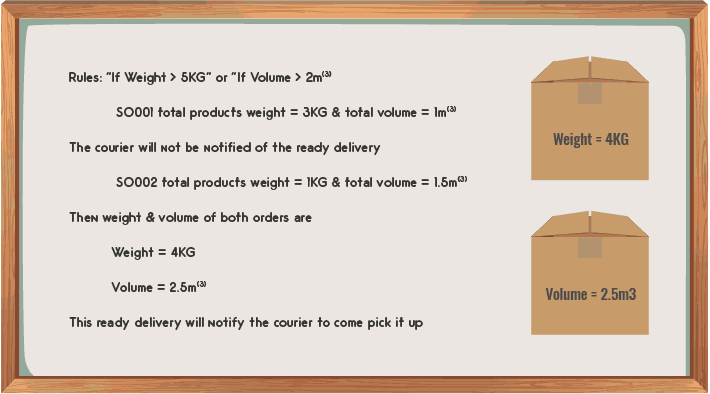 After you've identified your control areas, setting up your rules is easy! Just select the variable you would like to control and apply your operator and threshold value.

You can create/define as many rules as you want, whichever one is reached first will trigger the courier notification. You can also use the manual 'Send to Shipper' button from the Delivery Order page, which is a quick way to override all the rules and periods set in the delivery methods and trigger the notification in case there was a rushed and immediate delivery at hand. 
This is a module that truly adds value to people and companies when it's well configured.
It's time to take control of your delivery process!